Trident™ Three Phase Duplex Demand Industrial Wastewater Panel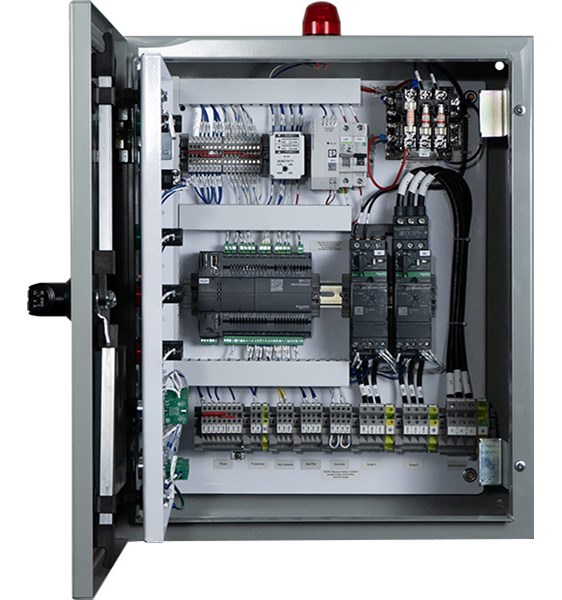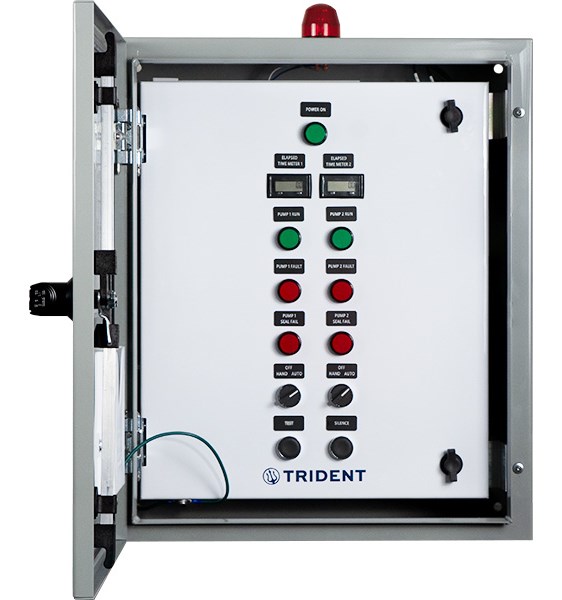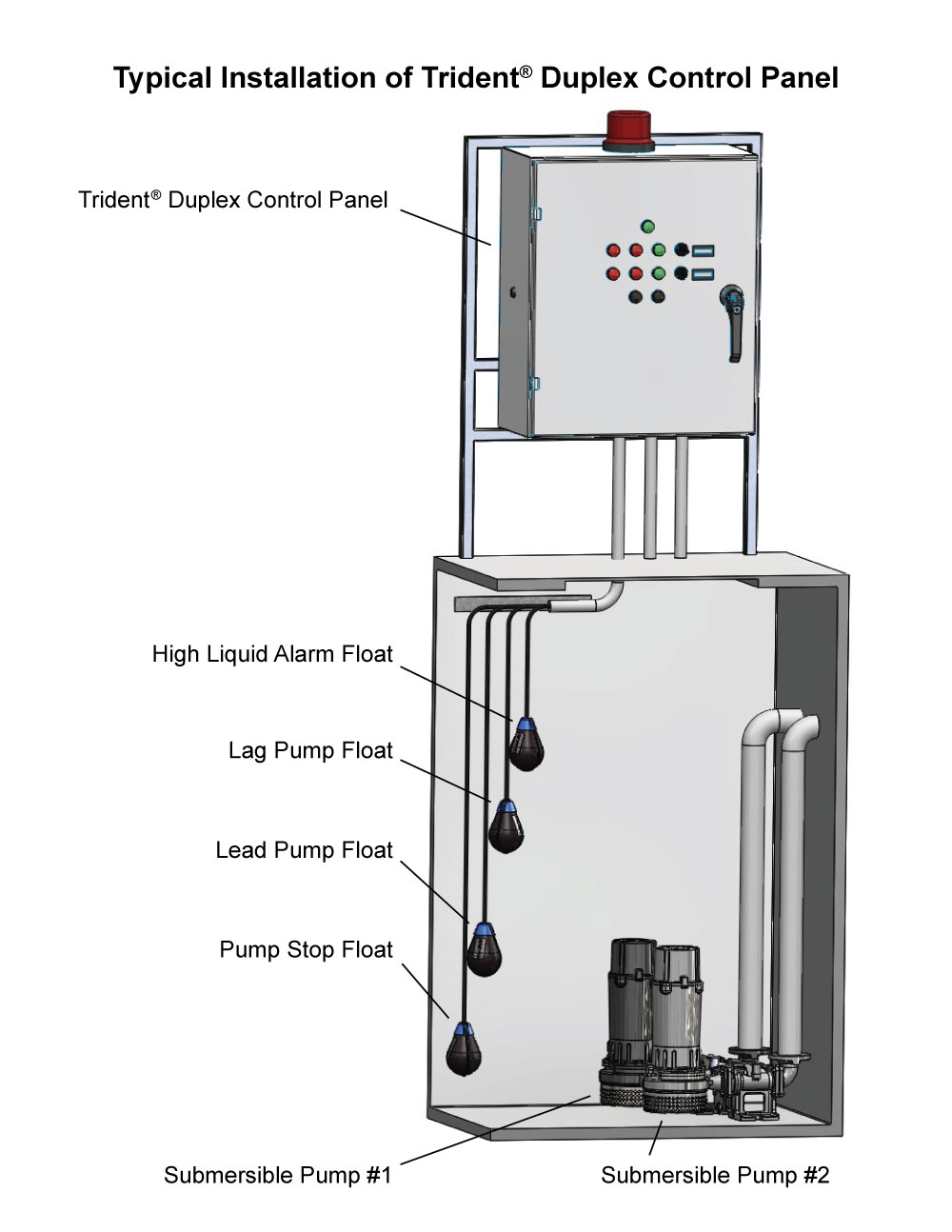 Trident™ Three Phase Duplex Control System
The Trident™ control system is an industrial three phase duplex panel designed to simplify pump stations. See Water incorporates the Modicon PLC for control logic and packs industry communications, such as Modbus TCP and BACnet right out the gate. The Trident™ utilizes a power base that allows for easy overload change in a small package of three options. In addition, these control systems come standard with Seal Fail and Thermal Cutout Pump protection.
Model
Voltage
Full Load Amps
TRD
208/240/480
(Adjustable Overloads from 1.25 to 32.0 FLA)
(Overloads sold separately)
T31
208/240/480
Adjustable overloads 1.25-5.0 (set of 2)
T32
208/240/480
Adjustable overloads 3.0-12.0 (set of 2)
T33
208/240/480
Adjustable overloads 8.0-32.0 (set of 2)
---
Add Pump Portal® remote pump monitoring to this control panel! LEARN MORE
---
Features
NEMA 3R rated painted steel enclosure with a lockable latch and dead-front inner door
IEC rated motor starter with adjustable overload
Fused step-down transformer: 208/240/480V-3Ø
Duplex provides automatic alternation and high demand two-pump operation
Pump control visible indicators: 22mm Pump #1 and #2 hand-off-auto (H.O.A.) switch, green pump run lights, red pump fault lights, and power on light
Alarm visible indicators: Red beacon alarm light, and seal fail leak alarm test and silence buttons
Four float operation: Off, Lead, Lag, High-Level
Elapsed time meters
System Integration: Supports Modbus RTU/TCP, BACnet
UL 508A listed
Two-year limited warranty
Applications
Wastewater, Stormwater and Industrial Lift Stations
Commercial
Municipal
Custom Options
5 = Level Transducer, 5 PSI, Max Water Level 11 ft., Type: Wastewater
10 = Level Transducer, 10 PSI, Max Water Level 23 ft., Type: Wastewater
15 = Level Transducer, 15 PSI, Max Water Level 35 ft., Type: Wastewater
20 = Level Transducer, 20 PSI, Max Water Level 46 ft., Type: Wastewater
Note: TRD with transducer will come standard with (3) backup floats.
AF = Alarm Flasher
AH = Anti Condensation Heater
C = Additional Cord Length Per Foot Per Component*
CO = Convenience Outlet (User to supply 120 VAC)
GR = Generator Receptacle, Includes Transfer Switch (Total Amps 125 Max)
ISD = Intrinsically Safe - Duplex
LAD / LAW = Lightning Secondary Surge Arrestor (LAD Delta / LAW Wye)
MD = Main Disconnect - Through Door Style
PM = Phase Monitoring - Ph Loss, Ph Unbalance, Undervoltage, Overvoltage
S3 = No Floats
ST = Upgraded Enclosure (Stainless Steel)
*Additional cord length greater than 20': Specify after C. Example: (TRD-T31-C50) Indicates 50' cord lengths for all floats.
Note: Example when adding options to the TRD panel: TRD-T31-PX-ST