Oil Smart® Single Phase Simplex Panel OSSIM-30
Quote Request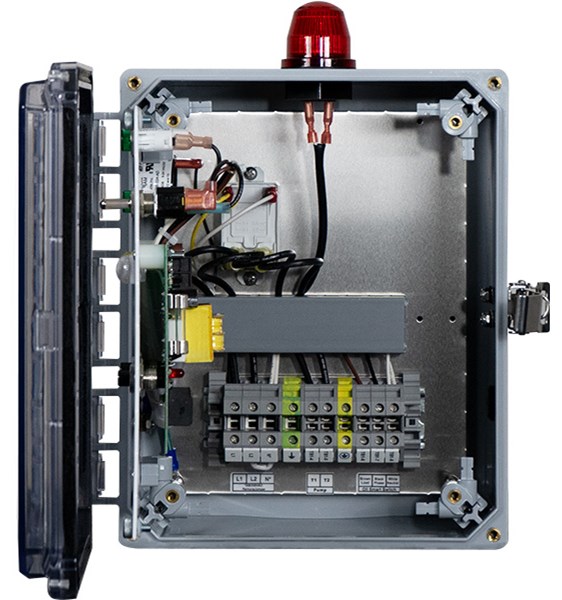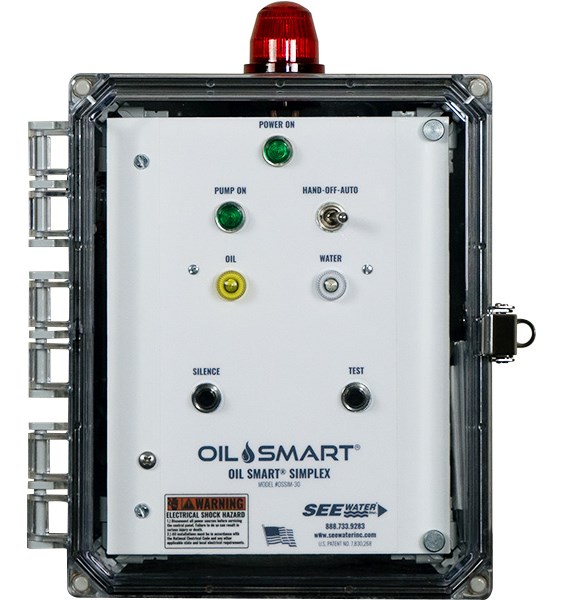 Pumps Water Only, Will Not Pump Hydrocarbons
The Oil Smart® simplex panel, when combined with a manual sump pump, will automatically pump water without the risk of pumping oil into the environment. Additionally, the system alerts maintenance or building personnel in the event of a high oil or high water condition. Installation of the simplex panel allows you to comply with Elevator Code ASME A17.1 and state/federal regulations while reducing the risk of adverse publicity, fines, and expensive cleanup costs.
Model
VAC
Phase
Operates Pumps Up To
OSSIM-30
120/208/240
Single
1HP @ 120V
2HP @ 208/240V
---
Add Pump Portal® remote pump monitoring to this control panel! LEARN MORE
---
Features
Panel and controls UL Listed for United States and Canada
Pump control and high liquid alarm differentiate between oil and water. The system includes the Oil Smart® pump control, Liquid Smart® alarm switch, and 20′ cords
Pump control visible indicators: Pump hand-off-auto (H.O.A.) switch, green Pump Run light, and Power On light
Alarm visible indicators: Red beacon alarm light, yellow light for oil, white light for water, alarm test and silence buttons
Alarm horn sounds at 85 decibels at 10 feet
Complete panel remote monitoring dry contacts: Oil, Water, High Liquid
Specifications
10″x8″x4″ UL-50 Type 6P listing
Outdoor/Indoor NEMA 4X rated enclosure with heavy duty polycarbonate construction
Applications
Elevator
Electric utilities (substations, power plants, underground vaults, and transformer barriers)
Any industrial sump or marine application
Custom Options
24 = Pump Exerciser - Auto Cycles Pump(s) Daily, Weekly, or Monthly
AF = Alarm Flasher
C = Additional Cord Length Greater than 20'*
CB = Circuit Breaker
CC = Cycle Counter w/ LCD Display and Reset
DPR = Dry Contact for Pump Run
E = 50Hz Configuration
ET = Elapsed Time Meter w/ LCD Display and Reset
MD = Main Disconnect
S3 = No Sensors Included
*Additional cord length greater than 20'. Specify after C. Example: (OSSIM-30-C50) Indicates 50' cord lengths for all components.