Quote Request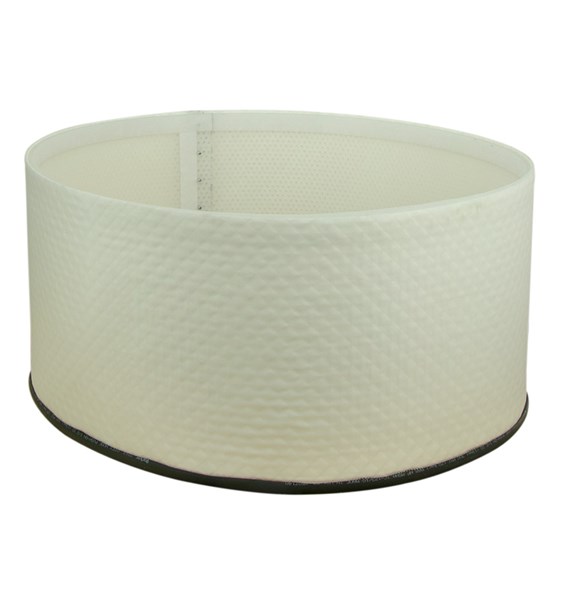 The See Water Sump Pump Vault Filter measures 24 inches in diameter and 12 inches tall. The filter mounts to the floor of the vault around the pump. The complete Sump Pump Vault Filter includes the filter housing, the debris and silt filter, and oil sheen filter. The unit is designed to stop debris accumulation that may clog the pump and it will provide oil spill protection redundancy when used in conjunction with the Oil Smart® System.
Features
Includes debris and silt 40 micron filter, 2 layers of oil sheen filter
The filter housing is constructed of white perforated polypropylene, 0.125 gauge, 3175 micron holes on 3/16 inch centers, a staggered pattern with 40 percent open area.
Polypropylene shell has high impact resistance strength, does not absorb moisture and is chemical and corrosion resistant.
The debris and silt filter is 75 inches long and 12 inches tall, 40 micron white nylon monofilament mesh fabric which is durable, washable and reusable.
The oil and sheen filter is made of two layers of patented Agent-Q (U.S. Patent No. 8,986,822), a filtering media which prevents oil from reaching the pump. Agent-Q fabric contains, in sonic bonded quilted diamonds, at least 350 grams per m2 of C.I.Agent solidifying polymers.
One layer of Agent-Q flows 400 gallons/minute/m2. It has an average grab strength of a nominal 60 pounds (ASTM D5034 testing) and a burst strength of a nominal 70 psi (ASTM D3786 testing).
C.I.Agent Solidifying polymers are listed in the EPA National Contingency Plan Product Schedule for oil cleanup and are effective in temperatures ranging from -30°F to 130°F.