Parabola® VFD Control Panel – Constant Pressure Applications
Quote Request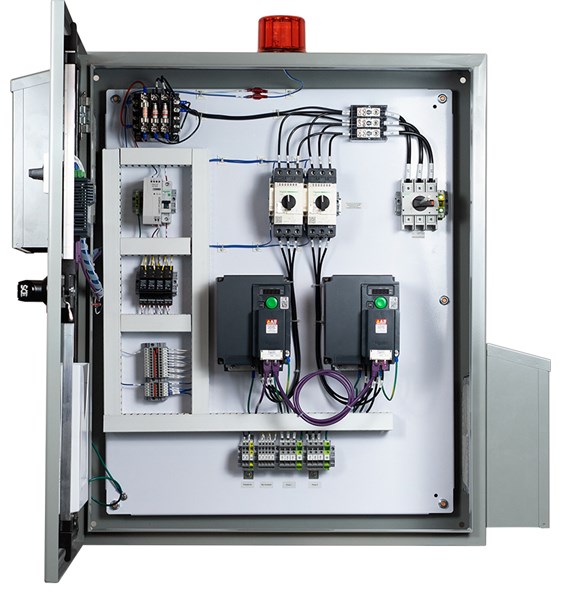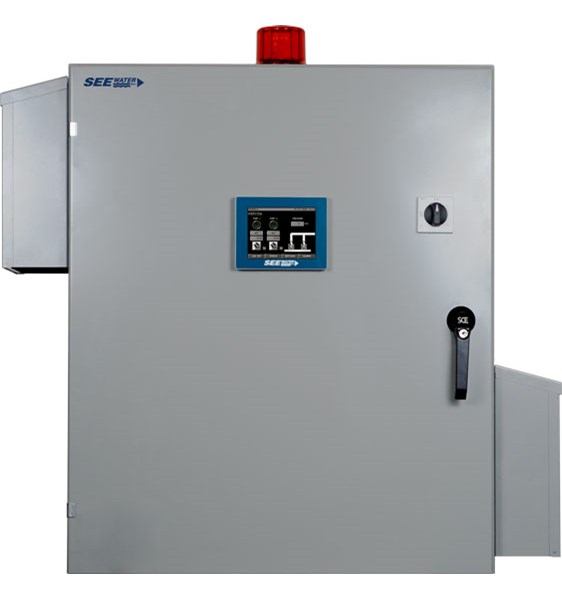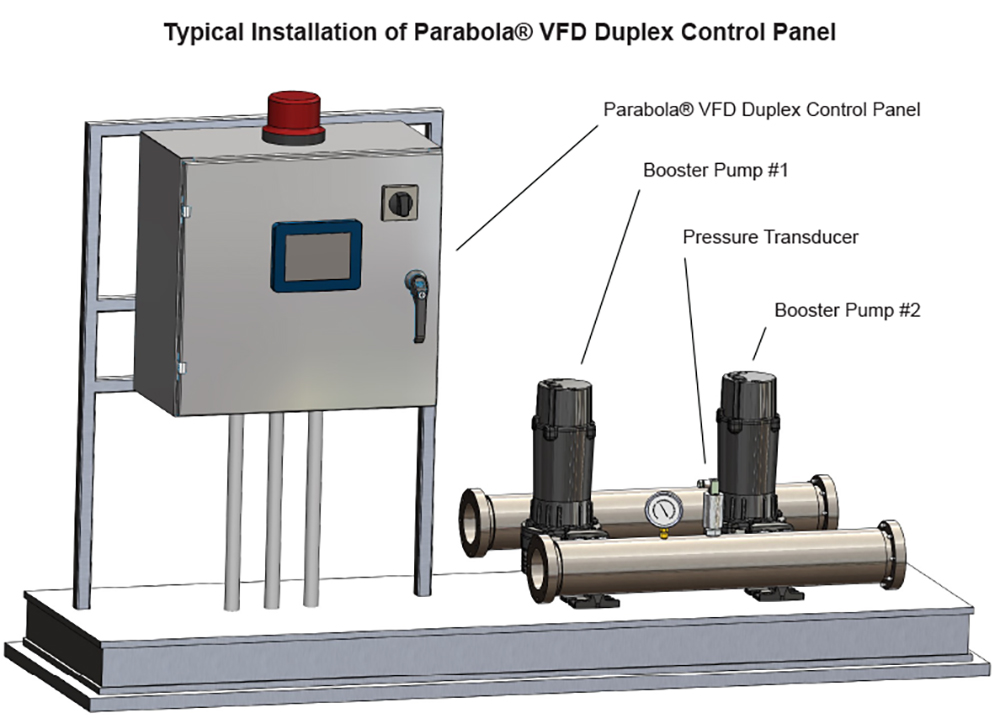 The Parabola® VFD control panels are advanced pre-engineered simplex, duplex, and triplex control panels with a user-friendly HMI control interface. The control panels are designed for constant pressure applications, including: irrigation systems, chemical feed systems, cooling towers, commercial pressure boosting, building water supply systems, and other constant pressure applications.
Features
Single or three phase voltage supply, controls 208/240/480VAC pump(s)
Pump protection: Motor protective switch included for each pump (branch circuit protection, adjustable overload and disconnect)
Alarm horn sounds at 85 decibels at 10 feet
Alarm visible features: Red beacon alarm light
Remote monitoring dry contacts: High/low pressure alarms, summary alarm/fault (normally open)
NEMA 3R rated enclosure: Painted steel with lockable front door and through door main disconnect
Stainless steel pressure transducer 0-300 PSI, 1/4" NP, 4-20mA output included
Variable frequency drive operation with configurable parameter settings accessible via HMI
Panel and controls are UL listed for the United States and Canada
Modbus RTU/TCP communication options
---
Add Pump Portal® remote pump monitoring to this control panel! LEARN MORE
---
Program/PLC/HMI
Constant pressure operation with optional adjustable PID settings and high/low pressure alarms
Selectable alternation pattern: Cycle or timed
Multiple access levels for added security
Duplex panel provides pump rotation and high demand two-pump operation
Pump run data logging: Records each pump event - start time, stop time, and run duration
Automatic system restart
HMI touchscreen display features:

Hand-Off-Auto (H.O.A.) switch for each pump
Green Pump Run indicators
Red Pump Fault indicators
Pump and pressure status screens

Alarm/Fault history: Data logging gives access to 250 fault conditions with date and time (optional access to auto-save alarm history to USB drive)
Backup pressure override operation: User-configurable feature that automatically switches to pressure switch operation in the event of a transducer error
No flow protection: User-configurable feature that inhibits pumping during no flow conditions
Applications
Irrigation systems
Chemical feed systems
Cooling towers
Commercial pressure boosting systems
Building water supply systems
Other constant pressure applications
Custom Options
28 = Power On Dry Contact (Normally Open)
AH = Anti Condensation Heater
CO = Convenience Outlet (User to Supply 120VAC)
DFD = Dead Front Inner Door with HMI Mount
GR = Generator Receptacle, Includes Transfer Switch
IS = Intrinsically Safe - Simplex
ISD = Intrinsically Safe - Duplex
IST = Intrinsically Safe - Triplex
LAD/LAW = Lightning Secondary Surge Arrestor (LAD Delta / LAW Wye)
PM = Phase Monitoring
SF = Seal Failure Circuit and Indicator - Simplex
SFD = Seal Failure Circuit and Indicator - Duplex
SFT = Seal Failure Circuit and Indicator - Triplex
SS4 = Upgraded Enclosure (304 Stainless Steel)
SS6 = Upgraded Enclosure (316 Stainless Steel)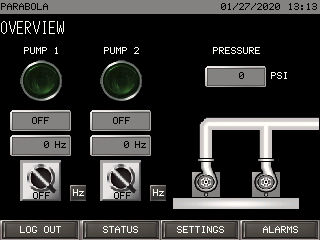 Overview
The HMI's main menu displays live pump data and H.O.A. switch(es). This menu is the user's command center.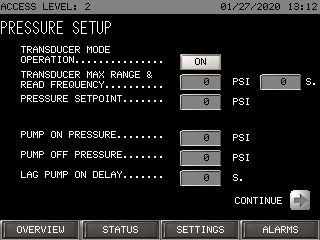 Pressure Setup
For constant and pressure boosting-based applications. Users can easily adjust the PSI set points to optimize efficiency. Optional PID access available.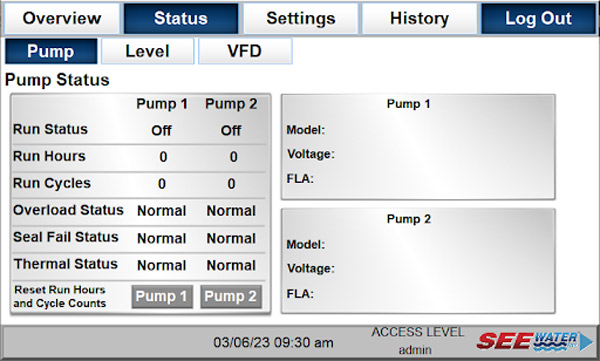 Pump Status
Status of all processes. Users can view Pump Fault, Run Time, and other necessary information associated with the pump operation.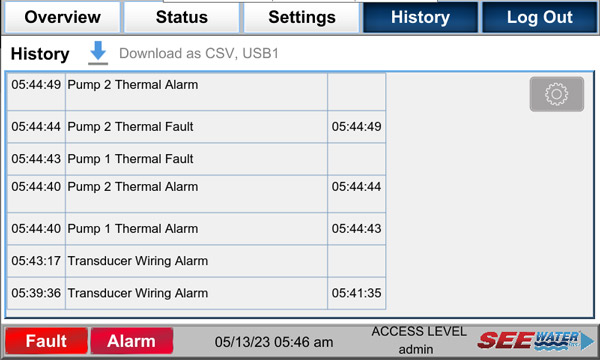 Alarm/Fault History
Data logging gives you access to up to 250 conditions with date and time.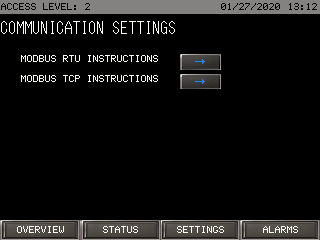 Advanced Communication
Modbus RTU, Modbus TCP, and additional communication protocols are supported.